Student of the game. Troubleshooter by trade. HSSU Assistant Coach and Hitting & Pitching Coordinator. Timing & Inverted W. Ted Williams, Mickey Mantle, David Price & Justin Verlander obsessive. Swing coach for MLB hitters. Hitting and Pitching DVDs & eBooks. Lecturer on innovation, entre-preneurship & elevator pitch. @thepainguy
JEFF PASSAN'S THE ARM
With the imminent release of the hatchet job that I fear is Jeff Passan's The Arm, and as I put together a longer piece that discusses his absurdly short 20 minute 2013 interview of me, and the lies he's told, I want to make sure people are aware of my current position and writings on a number of topics related to the pitcher injury and Tommy John surgery epidemic...
...and the solution to the problem...
That way nobody can say they weren't aware of their existence and importance.
WORLD SERIES PROVEN RESULTS

In addition to coaching hitting and pitching at the college level, I have a number of clients in the major leagues, including two who played on World Series teams. Andres Torres was literally my first client and put up 6.5 fWAR in 2010. He is shown hitting a home run during the 2010 World Series.


Most recently, I worked with Tommy Pham of the St. Louis Cardinals, shown here hitting a home run to deep left field during Game 1 of the 2015 NLDS.
EMPIRICAL, NOT THEORETICAL
My approach to developing hitters and pitchers is very simple...
Study the science.
Study the best of the best...
...using high-speed video.
Look for similarities & patterns.
Teach those similarities & patterns.
Sounds crazy? No? Then you might be interested in my information on hitting and pitching and should consider becoming a client.
THE EPIDEMIC


The Epidemic is my ongoing investigation into the root causes of the pitcher injury and tommy john surgery epidemic. It grew out of my efforts to keep my sons and their friends healthy -- and to keep what happened to me from happening to them -- by applying my experience troubleshooting large computer systems to the problem of pitching injuries.
TIMING, INVERTED W, & STRASBURG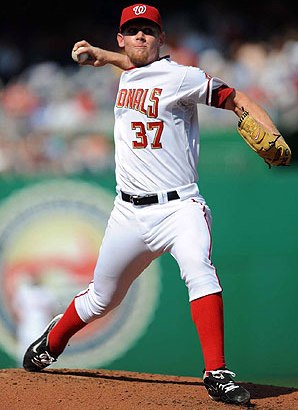 The Inverted W is one of the chief culprits behind the epidemic because it often leads to a Timing problem, and Timing problems -- not arm actions or positions -- are one of the main reasons why pitchers get hurt. For example, Stephen Strasburg's pitching mechanics are problematic not (just) because of his Inverted W, but because his Inverted W predisposes him to a particular type of Timing problem that I call Flat Arm Syndrome.
DOMINANT & DURABLE: DAVID PRICE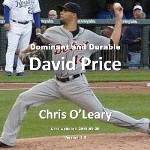 David Price's pitching mechanics are breathtaking. He is one of a shrinking number of pitchers who still generate velocity in the classic manner; with their entire body and not just their arm. Dominant and Durable: David Price, is a nearly 600 page breakdown of his pitching mechanics. I spent 2015 travelling around the country and collecting 120 fps video clips of David Price's pitching mechanics and assembling them into a exhaustively detailed flipbook analysis of David Price's pitching mechanics.
CLIENTS
Major league hitters I have worked with include...
Andres Torres (2008-2013)
Johnny Giavotella (2010-2015)
Mark Trumbo (2014)
Tommy Pham (2010-2015)
THE BASICS
For parents and coaches of younger baseball and softball players, I have made available, for FREE...
TOPICS
I spend most of my time thinking and writing about two things...
I am also fascinated by the topics of innovation and entrepreneurship -- it's what I do -- and I've written a book on the elevator pitch and am working on a book on innovation.
PROBLEM
If you think listening to the baseball establishment is the key to learning how to hit or pitch, think again. Starting with MLB Network and ESPN, and despite all the new video and computer technology that is available, it hasn't significantly changed -- much less improved -- how the game is taught. Instead, the same obviously wrong things are being taught and the same misguided cues are being used by people who could and should know better.
SOLUTION
Baseball-wise, I'm nobody. Due to shoulder problems, I never played beyond grade school. What I am is an experienced troubleshooter, teacher, and avid student of the game of baseball. I attend 70+ MLB games per year, film pretty much every pitch or swing with a high-speed camera, and then study and teach off of those clips. Does it work? Ask Andres Torres. He's just one of players I've helped get to, and succeed in, the major leagues.
JOSE FERNANDEZ

A month before his elbow failed, I saw something in Jose Fernandez's pitching mechanics that I believed put his elbow at risk and tweeted my concerns. A month before his shoulder failed, I saw that Jose Fernandez was still doing those same things, and worse, and tweeted my concerns.
PITCHER INJURY PREDICTIONS
In addition to my tweets about Jose Fernandez, I made a number of pitcher injury predictions during 2015.
DOMINANT & DURABLE: NOLAN RYAN


Nolan Ryan was one of the most dominant pitchers of all time and maintained that dominance for 27 years. Dominant and Durable: Nolan Ryan is a nearly 700 page, extremely detailed photographic study and analysis of his pitching mechanics.
HITTING & THROWING BASICS
I am constantly asked if I have any products for younger players. As a result, I have created Hitting & Throwing Basics which is designed to get young baseball and softball players on track and, just importantly, help their parents and coaches keep them from getting off track.