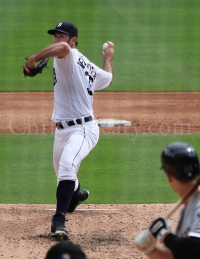 Critical Thinker. Problem-Solver. Private Hitting coach with MLB clients. Student of the Game of Baseball, especially Pitching and the Epidemic. Starting a podcast about Innovation. Father. Catholic Survivor. Fearless. Relentless. Emboldened by Christ.
Torres' favorite is Pujols. He is in such awe of Pujols' swing that he'll not only watch his at-bats but go online and use Google to find out more. In early 2008 he found some flipbooks breaking down the Cardinals first baseman's swing frame by frame and out of the blue called the website's creator, a St. Louis area suburban dad named Chris O'Leary...

- Joe Lemire
SPORTS ILLUSTRATED
October 13, 2010
Speedy Andres Torres fast becoming invaluable
to Giants
If you're new to my work and me, my more popular pieces include...
My recently updated pieces include...
As part of my efforts to understand what's happening to baseball pitchers, I make predictions about pitchers via my Twitter account @thepainguy.
Chris O'Leary
I have a broad range of interests, so there are many elements to my story.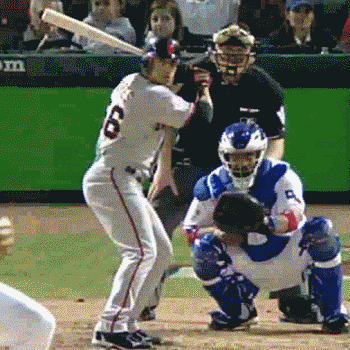 I'm nobody.
I never played organized baseball beyond grade school.
And I've helped multiple players make it to, and be successful in, the major leagues, including...
Andres Torres
Mark Trumbo
Tommy Pham
That started when, in May 2008, Andres Torres called me...
After the 2007 season, (Andres) Torres remained stuck in AAA, and he knew something had to change. With the help of Chris O'Leary, a private hitting coach, he began looking at all the video he could find on hitters he admired, starting with Albert Pujols. He saw the way they generated power by rotating through the pitch.
- Andrew Baggerly
A Band of Misfits
...having seen my analysis of Albert Pujols' swing...
Albert Pujols 2009
Home Run to LCF
...and my flipbooks, particularly my...
Andres asked me to teach him the principles of the High-Level Swing Pattern, starting with Rotation.
I know about training, but hitting was difficult. And then in '08... There's a guy named Chris O'Leary (a St. Louis fan who kept online flipbooks breaking down Pujols' swing). He's online. He talks about Rotation. He's got video examples of Pujols and I watched those.

- Joe Lemire
SPORTS ILLUSTRATED
October 13, 2010
Speedy Andres Torres fast becoming invaluable
to Giants
Since then, I've picked up numerous major league scouts and college baseball and fast pitch softball coaches as followers.
Chris,
I appreciate all u do.
I have nothing but great respect for your passion and conviction.
Stay on plane, my friend.
Kevin Schnall
Coastal Carolina Baseball
2016 NCAA D-1 National Champions
Most recently, I helped reinvigorate the offense of HSSU, an NAIA baseball team and HBC for whom I was the Hitting Coordinator from February 2016 thru February 2017.
| | | | |
| --- | --- | --- | --- |
| YEAR | AVG | SLG | OBP |
| 2014 | .298 | .412 | .369 |
| 2015 | .263 | .357 | .350 |
| 2016 | .311 | .449 | .400 |
| 2017 | .334 | .472 | .420 |
| 2018 | .286 | .424 | .387 |
| 2019 | .276 | .434 | .354 |
When it comes to Hitting, my most popular pieces are.
Other pieces I've been working on lately include...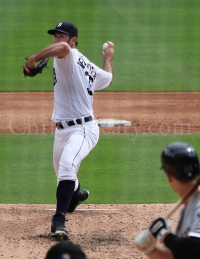 When it comes to Pitching, my Point Of View, and Point of Difference, is simple; the conventional wisdom about pitching mechanics is — whether they know it or not — focused on developing RELIEVER grade arms. That's why modern pitchers throw harder, but can't stay healthy.
In contrast, I'm focused on developing STARTERS; pitchers who are BOTH Dominant and Durable.
The pitchers with the best pitching mechanics include...
Justin Verlander (PRE-2020)
Aroldis Chapman
When it comes to pitching in general, and Pitching Mechanics in particular, I've been thinking and writing about a number of topics...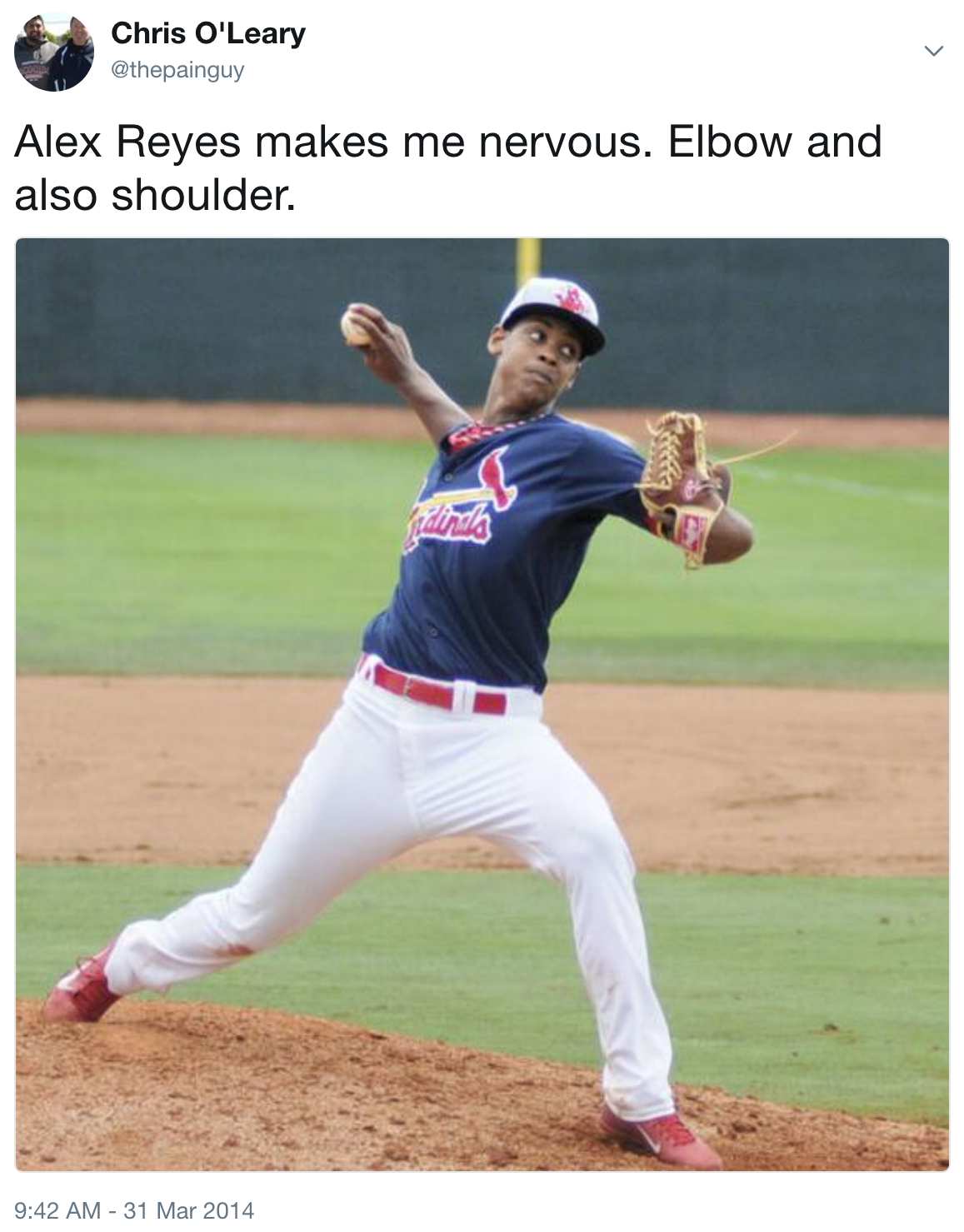 Since 2005, I've been working to try to understand what modern baseball pitchers are, increasingly, having such a hard time staying healthy.
My most recent project is an overview of my view of the baseball pitcher injury epidemic and some of the key, related topics...
Baseball & Fast Pitch
What am I?
Just a student of the game.
When I started coaching and working with my kids and their friends, I didn't know anything — less than nothing, in truth — so I did what my Big 5 consulting background taught me to do.
I started studying the industry.
That meant benchmarking great hitters like...
Ted Williams
Mickey Mantle
Stan Musial
Albert Pujols
Mike Trout
...and great pitchers like...
Nolan Ryan
Tom Seaver
Mariano Rivera
Justin Verlander
Aroldis Chapman
...to see what they did and what made them successful.
Actually.
I say "actually" because I quickly came to understand that what I was taught, and what most people were and are still teaching, was and is not what the best players actually do.
If you want to learn what I discovered and what I taught my kids and now my clients, I offer a series of baseball webBooks, eBooks, and streaming DVDs.
Philosophy
More is more.
That's what people seem to think when it comes to hitting and pitching instruction.
More drills, more videos, more of everything. All of which take more time to read, view, and process. While that's fun for some, it didn't work for me.
So I take the opposite approach.
Less is more.
I invest significant money — and, more importantly, time — in getting to the essence of a subject. To its core. To editing, not writing.
My clients tend to be people who want the best information but also value their time.
Free 10-Minute Clinics
Increasingly, instructors seem to believe more is more; that to stand out, you have to overwhelm people with information and drills. The more I work with both youth coaches and college players, the more I'm finding less is more. That's the logic behind my 10-minute...
It's also the logic behind all of my hitting and pitching products.
I got into the baseball stuff as a result of my broader interest in Innovation.
Elevator Pitch Essentials
I have long been interested in innovation and entrepreneurship and have worked for a series of software start-ups as a result. Drawing upon these experiences, Elevator Pitch Essentials explains how to get your point across in two minutes or less.
You can buy Elevator Pitch Essentials via my web site. My Elevator Pitch primer is a good place to start if you are unfamiliar with the concept of an elevator pitch.
The Paradox of Pain
I am in the process of writing a second book entitled The Paradox Of Pain that explains the critical — but too often overlooked — relationship between pain, change, and innovation.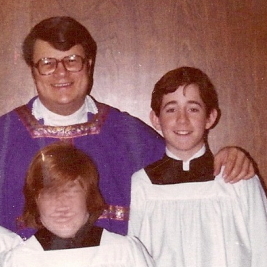 I'm a survivor of the Catholic Church's sex abuse crisis. I was sexually exploited, abused, and ultimately assulated — raped — by a priest named Father LeRoy Valentine at The Church of the Immacolata in the late 1970s and early 1980s. Abuse that was witnessed, at least in part, by My Friend the Cardinal.
And not the baseball kind.
Abuse that continued at my Jesuit high school.
Then things got REALLY bad.
That was in the weeks after, and because of, the release of the original SPOTLIGHT articles that inspired the movie.
I've started writing down my story...
...and have put together a number of overviews of my story...
I've put together a podcast that tells my story in audio form...
My newest project is...
...which was inspired by the impending 20th anniversary of the release of the original SPOTLIGHT articles about the Catholic sex abuse crisis...
I've created a number of summaries of the role played by some VERY big names in my story...
I tell my entire story via a series of essays I call Sins of the Fathers...
My newest and most recently updated pieces are...
I'm also in the very early stages of working on a...
...that picks up, as my story does, where the film SPOTLIGHT leaves off.