Bat Drag 101
Bat Drag is a very common problem in hitters up to high school age and sometimes, as in the case of Mark Reynolds and Mike Olt, the major leagues.
Based on the large number of young hitters that I have seen or worked with, I would estimate that upwards of 80 percent of young hitters have some degree of Bat Drag in their swings.
The reason you don't see (much) Bat Drag in high school hitters isn't because it doesn't happen in high schoolers. Rather, it is because most hitters with Bat Drag simply can't hit high school pitching (or, usually, middle school pitching).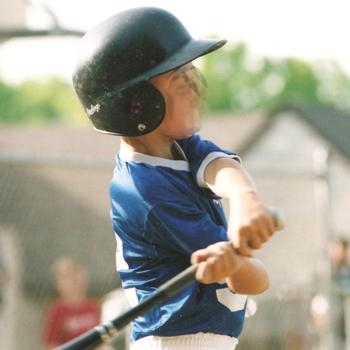 Bat Drag
As it turns out, both of my sons struggled with problems with Bat Drag. The lack of fixes for Bat Drag (that actually worked) drove me to study hitting. I then put together this primer on Bat Drag and eventually a webbook that tackles the subject of fixing bat drag.
What Bat Drag Looks Like
What happens during Bat Drag is that, fairly early on in the swing, the hitter's back elbow gets ahead of their top hand.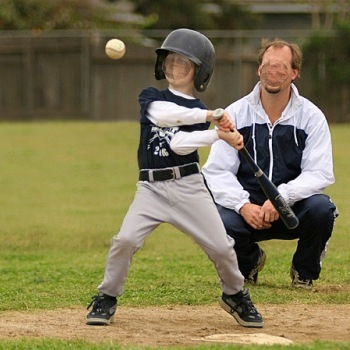 Bat Drag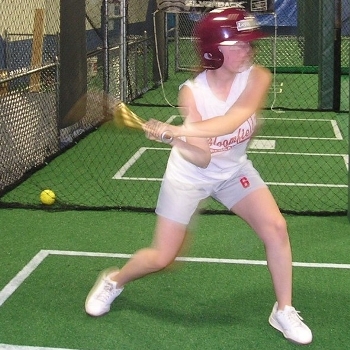 Bat Drag
Bat Drag
As a result, the hitter will exhibit the telltale stacked elbow, Sideways V position, with the back elbow under the front elbow and the forearms largely horizontal and level to the ground.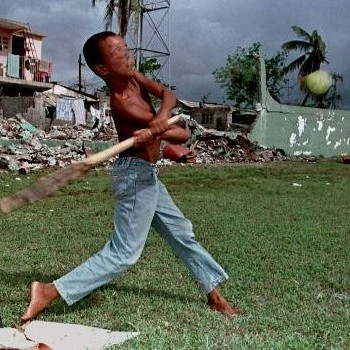 Bat Drag
In the worst cases of Bat Drag, the hitter's back elbow will slide well forward of their top hand.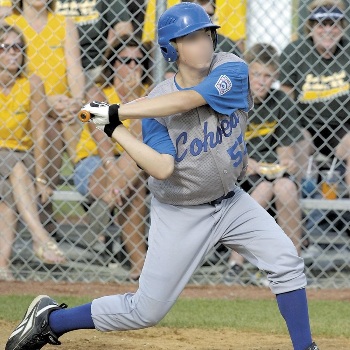 Bat Drag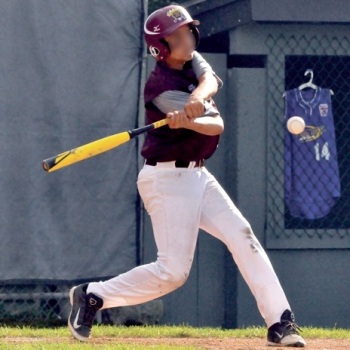 Bat Drag
As a result, at the Point Of Contact the hitter's back elbow will be well forward of their back hip, their back upper arm will be more horizontal than vertical, and their swing will unfold well out in front of them.
Why Bat Drag is Problematic
Bat Drag creates a swing that is sometimes very powerful but that is always very long; typically too long to catch up to a good fastball or to adjust between a fastball and a quality off-speed pitch.
Bat Drag changes where, when, and how the bat head starts to whip. As in the case of Mark Reynolds, that forces the hitter to make contact with the ball farther out front than is optimal, which hurts their ability to read the pitch and adjust to the ball.
Mark Reynolds
Mark Reynolds
In Mike Olt's case, his back elbow slides well forward of his back hip, causing him to consistently hit the ball well out front.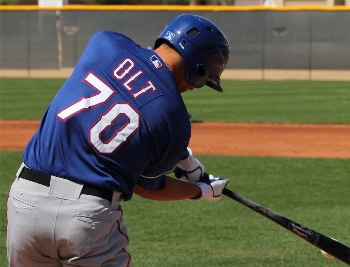 Mike Olt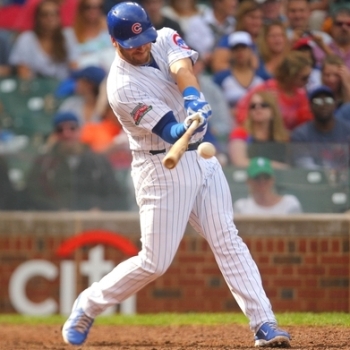 Mike Olt
As players get older -- usually older than 11 or so -- the result of a swing with Bat Drag is occasionally lots of powerfully hit foul balls and/or hits to the opposite field, and sometimes doubles and home runs, but typically lots of swinging strikes.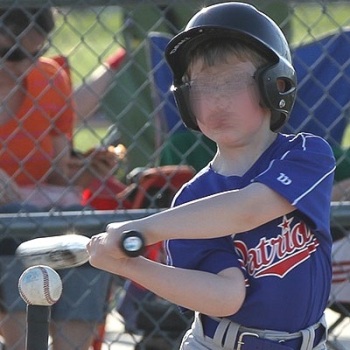 Grand Slam Home Run
I have seen Bat Drag turn 5th grade, .500-average power hitters into 6th graders who struggle to get one weak hit per game (or season).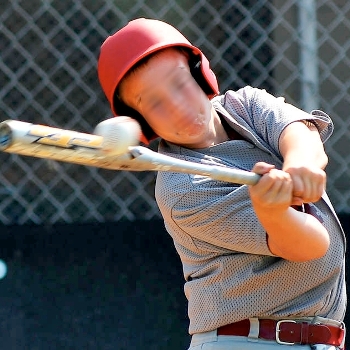 Home Run
Bat Drag vs. Bat Lag
Many people use the terms Bat Drag and Bat Lag interchangeably when, in truth, they are opposites.
As I explain in my piece on Bat Drag vs. Bat Lag, Bat Drag is the sign of a serious, but common, problem with the swing while Bat Lag is a normal and necessary component of a swing and the sign of a powerful swing.
My Older Son's Bat Drag
A while back I was cleaning up my web site and stumbled across the video below of my older son playing Home Run Derby in our side yard in May 2006. This video was taken back before I knew much about hitting. I hadn't had to put much thought or time into his swing because he had hit quite well up until that point, hitting for both power and average.
The thing that is really prominent in this video is significant Bat Drag, which explains why he started to struggle that year.
Bat Drag
Notice how, as he starts his swing, his front arm bars and his back elbow slides forward of his back hip. This lengthens his swing and moves the Point Of Contact forward.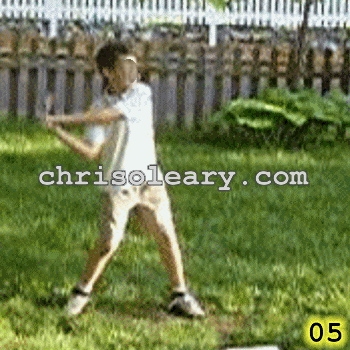 Bat Drag
Frame 5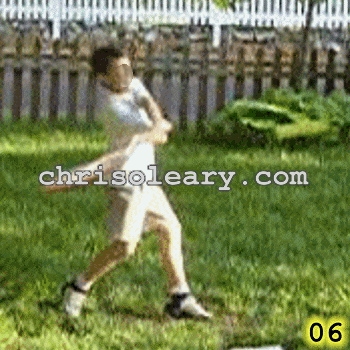 Bat Drag
Frame 6
In Frame 6, notice how his back elbow has slid well forward of his back hip and is under, and is almost touching, his front elbow.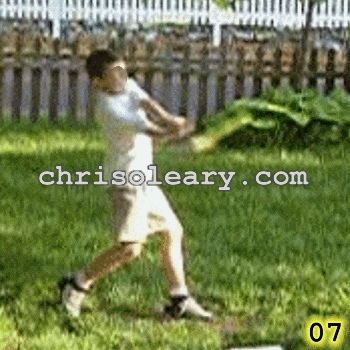 Bat Drag
Frame 7
The existence of Bat Drag in my older son's swing makes sense, given his difficulties at the time.
Over the years, his batting average declined as the pitchers got better and he started seeing more than just glorified batting practice fastballs. He also became increasingly likely to hit the ball hard to right field or just foul down the right field line, both of which are signs of a swing that is being slowed down and lengthened by Bat Drag.
My Younger Son's Bat Drag
My younger son also had a problem with Bat Drag. In the clip below, notice how his back elbow slides forward. That makes the barrel dump and causes him to swing with too steep of an uppercut.
Bat Drag
That frequently caused him to top the ball and pound it into the ground.
Bat Drag
His problem with Bat Drag also caused him to make contact farther forward than good hitters do, which made him vulnerable to any pitch that wasn't thrown at the speed he was used to.
Symptoms of Bat Drag
If you are wondering if one of your children or hitters may have a problem with Bat Drag, here are some of the symptoms.
Needing the Tee Forward in the Stance
In retrospect, one indicator of my younger son's Bat Drag was that he was literally unable to hit off of a batting tee if the tee was placed closer than the toe of his front foot. He had to push the tee forward, or back up, in order to be able to hit the ball. Of course, that was because his back elbow was leaking forward and was causing his swing to unfold farther out front than was typical (or optimal).
A Swing That Doesn't Scale
One frequent tip-off that a hitter has a problem with Bat Drag is that their swing doesn't scale.
They usually start out with tons of multi-field power in tee-ball, coach pitch, and even machine pitch. However, as they start to move up through the levels of kid pitch, and especially around 5th or 6th grade, their batting average starts to fall through the floor.
In many cases, what has happened is that the length of their swing has forced them to start their swing earlier. That can then make them vulnerable to even low-quality curveballs, change-ups, and other off-speed pitches.
Lots Of Swinging Strikes
One symptom of a swing that is being affected by Bat Drag is an increasing number of swinging strikes. The problem is that Bat Drag is lengthening their swing and making them late.
Great Hitter During Batting Practice,
Poor Hitter In Games
Another indicator that a hitter may have a problem with Bat Drag is that they absolutely kill the ball in batting practice, and in particular when hitting off of a batting tee or during soft-toss drills, but constantly strike out when going up against good, live pitching. The problem is that Bat Drag isn't an issue, and is often an asset, when the ball is either standing still or moving very slowly. Instead, Bat Drag is only an issue when the pitcher is able to bring it with decent velocity.
Lots Of Pushing The Ball
Hitters with a problem with Bat Drag will often develop a problem with pushing the ball (e.g. hitting the ball to the opposite field). While this sometimes won't cause an obvious problem, and in the case of a right-handed batter may simply result in lots of doubles and triples into the right field corner, at some point the hitter may reach the point where many if not most of their balls land foul down the right field line (left field line in the case of a left-handed batter).
Excessive Uppercut
While some uppercut is good, because it lets the hitter match the planes of the pitch and the swing, too much of an uppercut can be just as problematic as chopping down on the ball; it will tend to reduce the overlap of the pitch plane and the swing plane, and lead to lots of strike-outs.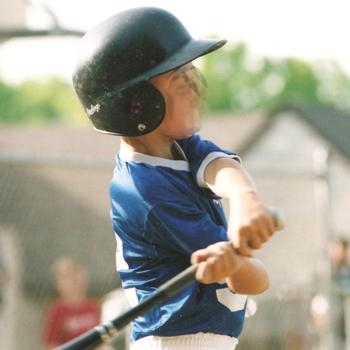 Bat Drag
Pounding the Ball into the Ground
Between the Plate and the Pitcher
In some cases, a problem with Bat Drag can cause the hitter to pound balls -- and especially balls up in the strike zone -- down into the ground between the plate and the pitcher. That happens because, as the back elbow leaks forward, that causes the barrel to dump down out of the plane of the shoulders.
What Doesn't Work
As I discuss at length in the public portion of Fixing Bat Drag, when working with my older son on his Bat Drag, I tried literally every supposed fix for Bat Drag, including...
However, when I looked at the resulting swings on video, nothing had changed fundamentally. That forced me to develop my own approach to fixing bat drag.
Before and After
As a result of years of experience working with my two sons, their teammates, and hundreds of other young hitters in our youth baseball and softball program, I have developed an approach to fixing Bat Drag that is easy to implement and that can quickly yield dramatic results.
Before
In the case of my younger son, we were able to transform his swing from the one above, which was heavily affected by Bat Drag and which rarely led to solid contact, to the one below that produces consistent, hard-hit line drive singles, doubles, and home runs and has made him the 3-hole hitter on every team he has played for since fourth grade.
2 Years Later
2 Years Later
I have distilled the lessons I have learned treating the Bat Drag of my sons and their friends into Fixing Bat Drag, a webbook that explains why Bat Drag happens and how to fix it.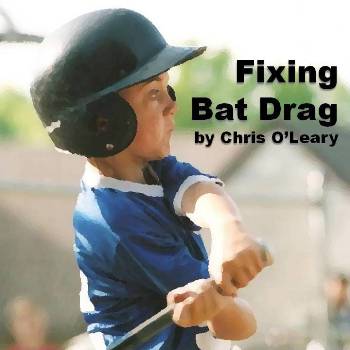 Fixing Bat Drag is available for only $12 and is GUARANTEED to work. If you don't solve the problem, then you don't pay anything.
Fixing Bat Drag is also available, for FREE, as part of my Rotational Hitting 101 DVD, hitting, and hitting & pitching bundles.