Despite his being one of the most prominent, powerful, and longest-serving members of the hierarchy in the United States — and the well-publicized failings of his peers, including Cardinals McCarrick, Wuerl, Law, and Rigali, among others — the press is strikingly incurious when it comes to the direct, historical involvement of Timothy Cardinal Dolan in the sex abuse crisis that has imperiled the Catholic Church.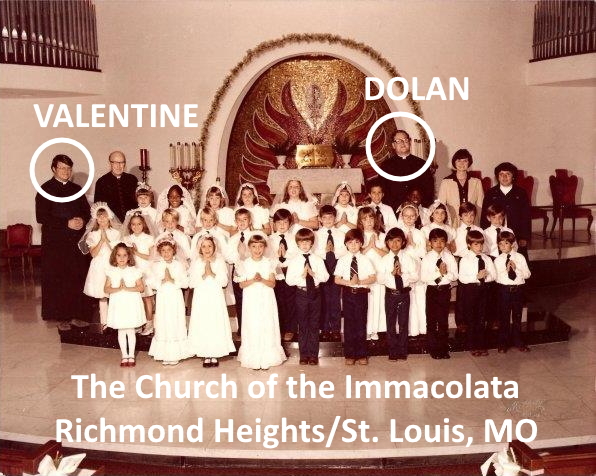 Immacolata 1978 or 1979
The press, both secular and religious, isn't afraid to ask Cardinal Dolan what should be done, and what he's doing, with respect to the crisis.
But nobody seems interested in what ++Dolan himself did during those dark days.
Where he was and what he did.
And did NOT do.
Timothy Cardinal Dolan's Sins
Cardinal Timothy Dolan turned a blind eye to my abuse and the abuse of others by Fr. LeRoy Valentine while a parish priest at Immacolata in St. Louis. Dolan then Gaslighted me while he was working directly for the Archdiocese of St. Louis as an auxiliary bishop.
I've recorded my testimony about what happened at Immacolata and St. Louis, and Cardinal Dolan's involvement in it, in multiple forms, including as an MP3...
...and a video overview...
This piece is a high-level linear telling of the sins of Timothy Cardinal Dolan.
1976
I've known Cardinal Timothy Dolan since he was a priest fresh out of the seminary and I was a third grader at the Church of the Immacolata in Richmond Heights, Missouri, a suburb of St. Louis.
I'll never forget the day, during third grade religion class, that then Father Timothy Dolan came to our class to teach us the lesson of Mark 8:22-26 — the story of Jesus healing the blind man at Bethsaida, but in two steps — and chose me to play the role of Jesus.
What an incredible privilege and unforgettable honor that was.
But, what I also can't forget is that, while a diocesan priest, Father Tim Dolan saw, and turned a blind eye to, our abuse by Fr. LeRoy Valentine at Immacolata. Abuse that continued and escalated during the time Fr. Dolan and Fr. Valentine overlapped at Immacolata from Summer 1977 until Summer 1979.
Even worse, in March 2002 by then auxiliary Bishop Timothy Dolan then lied to and Gaslighted me when I called the Archdiocese of St. Louis for help and Dolan called me back. Without any investigation, and despite the conflict of interest — remember, Dolan lived with Fr. LeRoy Valentine, the (acknowledged) abuser in question, at Immacolata for two years — Dolan told me nothing happened.
1977-1979
Then Fr. Timothy Dolan knew — he saw with his own eyes — at least testing and grooming, if not the sexual exploitation and abuse, of me and others by Fr. LeRoy Valentine at the Church of Immacolata.
Father Dolan knew and saw that Valentine was having boys over for parties and wrestling. he also knew and saw that Valentine was taking boys up to his room alone.
Two other guys — at least — can attest to this.
2002 EARLY MARCH
++Dolan was asked to investigate Fr. Valentine and accepted the assignment despite the conflict of interest. And, in early March 2002, ++Dolan immediately, without any investigation, and despite his conflict of interest, told me nothing happened...
I know Fr. Valentine well.
We were at the seminary together.
We lived and worked together at Immacolata.
I know Leroy Valentine didn't do any of the things he's being accused of.
I know he would never do anything to hurt a child.
...sending me on a 10-year, psychological wild goose chase.
QUESTIONS
1. In 1977 did then Father Tim Dolan say anything to Monsignor Flavin about what he saw Father LeRoy Valentine doing with and to us?
2. Why didn't Dolan, after immediately, without any investigation, telling me nothing happened in early March 2002, notify me or call me back when Valentine resigned in late March 2002?
The two other — at least — allegations should have suggested that maybe something indeed had happened to me.
3. Why did Dolan discard/hide my records after talking to me in early March 2002? As Bishop Rick Stika told me (via tweet that's still up)? And as ArchStL review team told me in 2011? Here's the money tweet from Bishop Stika...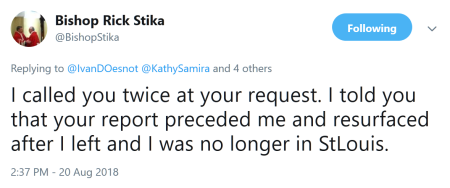 By way of background, Stika took over for Dolan in early Summer 2002 and went thru the files when he did. My name, information, and allegation was NOT in Fr. Valentine's file as of the Summer of 2002, just a few months after I called in.
That's weird because that was just a couple months after I came forward in early March 2002. And as the Review Team told me in 2011.
I know the Archdiocese of St. Louis retained some documents pertaining to calls from survivors.
But not mine.
And ArchStL may argue this is why I'm not in the Matrix. Because they didn't know about me. Due to a "clerical error" or whatever.
But they can't have it both ways. I told them about my Dolan conversations in May 2011 and I still was mis-characterized in the Matrix in 2014.
And another guy's complaint was completely omitted.
Which is a criminal act.
Perjury.