Testimonials
While I am admittedly an utter baseball nobody, I have done my homework and I do know what I am talking about. As a result, my hitting and pitching clients achieve significant results when they follow my advice.
As proof of this, on this page I have reprinted some of the unsolicited e-mail testimonials I have received from clients and readers who have had success implementing the ideas I talk about on my web site and in my hitting products.
Hitting Testimonials
While I started out with the goal of teaching pitchers, I have actually had more immediate results teaching hitters.
Below is the e-mail I received that convinced me that I knew what I was talking about when it came to explaining and teaching hitting.
Chris,

My son is a freshman (going to be redshirted) at a D1 school in the South. To make a long story short, he has always been a devotee of rotational hitting since about 13 years old. He has done well but adding your extras to his hitting has put him on his coach's map for next year. He is redshirting because of an injury but can still hit and has been popping HRs in BP with regularity (as in virtually every BP) whereas before it used to be a once in a blue moon kind of thing. He's no monster at 5'11 and 195 but now can hit them as far or farther than anyone on his team. No exaggeration.

Nick S.
Here is the most recent testimonial I have received.
Chris,

When I first purchased your program I was a bit nervous that I was wasting my money. Six weeks later, my nervousness has turned to extreme delight! Your depth of knowledge and research is exemplary. More importantly, you have the ability to convey every aspect of the swing clearly and thoroughly. My 11 year old son has been transformed in just 6 weeks! We have certainly put in many hours of practice in that time, but it is showing great dividends. He has gone from hitting every ball straight down into the ground to driving the ball with considerable power. His confidence has skyrocketed! The best part of it all is that he is beginning to understand the high level swing. I am extremely thankful to have found your website.

Thank You!

Lance M.
December 2014
Here are some other recent testimonials.
Chris,

I have read your works and have your DVD. I used to show them to my college hitters and recommend your site. Often I have told many of my students that, "I would rather my own son take a lesson from Chris O'leary than many of the guys I played with." Excellent work on describing the swing and best wishes to you! Keep up the good work!

Ron Wright


Chris,

Thank you for your hard work and research. Your deep understanding of the complexities of a baseball swing allow you to produce terrific webbooks and ebooks that simplfy the concepts for novices like me. And your mid-season correction in my 12 year old's hitting posture was so basic but had a dramatic and immediate impact on his hitting for the balance of the season. The smallest kid was hitting better than the select players on his team after your correction, and his confidence soared. His biggest highlight was pulling a line drive down the LF line in the District Final game against the hardest thrower in the league. I highly recommend your client site to everyone. You are truly an expert.

Thank you.

Tom G.
July 2014



THANK YOU CHRIS.

We bought your information a little over a year ago. Below is a picture of my son hitting his first homer since moving up to the 90 foot field. His name is ____ and he is 14 years old. Homer to the Left Field Gap.

Ed B.
May 2012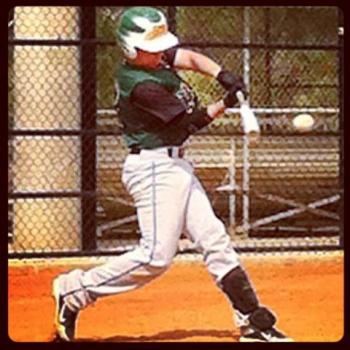 Hey Chris,

Attached is a clip of my son. We have been a client of yours for a few years. Your information has helped me, as a dad and former college player, figure hitting out.

Too bad my dad didn't know this stuff.

I have devoured every word of your hitting webbooks many times over, and it's given me great certainty on how to teach my son the proper hitting mechanics.

The clip is of him this past weekend hitting a line drive about 270 ft in the air. He's only 11 years old, in the 5th grade and weighs 106 lbs. I have a clip of him hitting one 305 ft when he was 10 years old (no exageration, there were eyewitnesses). I will send that one too.

Thanks to your influence he's in the upper portion of hitters in our state for his age bracket and he still has baby fat!

Thank you!

Sincerely,

Eric
November 2012



You owe it to yourself to get on Chris O'Leary's client website. It is outstanding. His message about the correct way to hit a baseball or softball is spelled out in great detail. The video clips are classic. Live game video of the best hitters in baseball and softball.

What a combination; the words of one of the most knowledgeable hitting coaches, someone who is on the cutting edge, and clips of the best hitters in the game today and from the past.

I will warn you that once you get on this site you can spend hours reading Chris analysis and watching video of the best hitters in the world. It is a one of a kind website for learning how to hit a baseball or softball.

Pat M.
Softball Dad
Physical Education Teacher
March 2012



Hey Chris,

Purchased your DVD back in December and told you I would update you on our progress in regard to adopting your rotational hitting techniques. As a reminder we are a first year 14A girls fast pitch team, _____ out of _____. We are fortunate that a few fields have been built over the last 5 years that offer artificial turf so our season starts earlier every year.

For the last few months I have thrown out most everything I was teaching and have implemented everything from your dvd and web page that I feel will help our girls understand the concepts of rotational hitting and understanding the stages of the rotational swing. I have kept it very simple working most of the same drills over and over and focusing a much larger percentage of our time hitting live.

We had our first tournament at the 14A level over the weekend and quickly became known as the team full of power hitters at the tournament. Every girl on our team had at least one hard hit fly ball that hit near the outfield fence. We had several shots throughout the weekend that one hopped the fence and we had our first over the fence home run, which just happened to be a grand slam. On Saturday alone we scored 34 runs in three games and dominated every team we faced.

I was fortunate that when I came in to winter workouts with a completely new hitting philosophy and a complete new set of drills from what we had been teaching in the past, that all of my coaching staff agreed 100% to commit to teaching your techniques. The results were far beyond what any of us expected and we are convinced that we will be a power hitting force to be reckoned with each time we take the field.

While we hit well last year and finished our season strong we always felt our weakness was hitting for power throughout our line up.

PROBLEM SOLVED.



I have used your model with my 6 year old and he is doing fantastic. No real problems to get rid of at the start. In fact he naturally was swinging the way you advised and we were trying to change him. Not so much success with my 5th grader who we taught linear hitting from the outset. He is a great contact hitter, but cannot hit the ball hard. Supports your theory completely. Thanks for all you do.



I have enjoyed the Rotational Hitting 101 DVD -- and the results my twin boys have experienced in the last tournament. They hit well above their seasonal average and they hit with more power. Grounders that would usually get caught got through the gaps. First twin went from batting .275 to .428 -- and second twin went from .300 to .466 for the 5 game tournament. Even batting practice is more fun to watch when they hit several hard line drives in a row to the outfield.
Here's an e-mail from a minor league ballplayer.
What a great website! I am heading into my first professional season in the _____ League with the _____ _____ and I have been learning how to do exactly what the photos of rotational hitting show. I understood it before but now I can visually see and relate to the pictures of Pujols, he is truly amazing. If you ever want to go to a game in _____ this summer, if you are from around there then let me know. It is going to be an experience for me so I couldn't tell you what to expect. Thanks again for this site. I appreciate it. Did you play professionally?
Here's an e-mail from the brother of a D-1 college ballplayer.
My brother is highly recognized nationally for his glove but has always been just average in his hitting. After watching some of the clips on your website he's hit 2 home runs in pre season games and he's never done that before so we're expecting him to get drafted in the higher rounds this year.
Here's an e-mail from a college hitter.
Before I began reading the information on your website I was hitting weak groundballs and occasional base hits. After learning a number of different principles such as tilt, circular hand path and separation, I became a gap to gap hitter with power to all fields.
Here's an e-mail from a college hitter.
A few weeks ago, I discovered your website and have been surfing it and reading almost daily every since I did, just getting as much information as possible. I play catcher for the University of ________ team and was reading online to find some ways to improve on my swing because I had been struggling of late. And I have been much more successful recently, as far as I can see, because I studied the hitter analyses and swing techniques you write about and everything started to make much more sense. Especially, concerning my load and being more efficient and direct with my hands. So I wanted to commend you on your knowledge and efforts. Thank you very much, the site is tremendous.
Here's an e-mail from a college hitter.
My name is Tony Bernazard. I'm a division 1 baseball player at Jacksonville University and son of former Major Leaguer and now Special Assistant to the GM and VP of Player Development of the NY Mets named Tony Bernazard. After searching around to find some swing analysis' of Major Leaguers, Manny Ramirez in particular, I came across Chris O'Leary's website and it is hands down the most helpful, easy to follow breakdown and instruction of the Major League swing. I have been taught more on the lines of linear hitting my whole life by my father and it had worked well up until about 2 years ago when the college pitchers got a scouting report on me. The ball just wasn't flying off the bat as well. But after reading and listening to everything that Chris O'Leary had to say about rotational hitting I, and my coaches, have noticed a huge difference in my swing and the results that follow. I was very skeptical at first because it went against a lot of things that I have learned, and I have trusted my dad because if it worked for him then he knows that he is talking about, but then I realized that most major leaguers, including him, aren't aware of what they actually do, and that, just as Chris says, the vast majority of Major League hitters follow the principles of rotational hitting, as the should, no matter what they may think they do. I am only 5'9'', 150 lbs, and am now testing out the dimensions at our park, a pitcher friendly park, on a regular basis. I am not even trying to hit the ball out of the park but when you are hitting it hard and well on almost every swing, it just tends to happen without trying to. I thank Chris for educating me on what a Major League swing really is and for helping me regain my confidence at the plate. The draft is coming up in June and I have all the confidence in the world that I will catch someone's eye with my new found swing. I recommend Chris O'Leary's teachings and philosophies to any baseball player at any level if they want to step up their game at the plate. Thanks Chris.
Here's an e-mail from the father of a high school hitter.
My son is 15 and has always been a good hitter, many consider him to have exceptional hands. However, he was prone to hitting ground balls and in my opinion not as much pop as needed. He hit mostly singles.
We attended a seminar put on by Mike Epstein a few months ago. It piqued my interest and I began learning about rotational mechanics. I found your site and especially liked your analysis of connection and indeed see this as key.
The picture analysis of various hitters also clearly demonstrates what actually happens during a swing. The combination of the load, stride and then the connected rotational swing is there for anyone willing to see past their biases.
My son has been hitting the smack out of the ball on his high school team. He has already hit several triples and doubles which is new for him. Most importantly he has a logical approach to hitting which will allow him to grow in the future.
Here's an e-mail from a high school hitter.
I think your site is great. I probably spend an hour a day on your site. I used to be a little punch hitter until I found your website, but now I regularly hit the ball over outfielders heads. I can also recognize most flaws in my teammates' swings. Whenever they doubt the advice I'm giving them to improve, I always take them to my house and show them your slow motion analyses of hitters.
Here's an e-mail from another high school hitter.
You have done a better job than probably 90 percent of all high school coaches on teaching the major league swing. Phenomenal!
Here's an e-mail from a youth coach.
This Fall I coached a 7-8 yr old machine pitch recreational team. All the kids at the beginning of the season had all sorts of swings and many could get their bats on the ball. By the middle and especially the latter part of the season, the kids were hitting, from the top to the bottom of the line-up. No batting average was below .450 after being taught rotational hitting fundamentals. The kids' confidence levels continued to increase and they were eager to get out and hit after many started the season not wanting to be there and fearing failure. The kids and parents were all excited at the season end team party and were all talking about how far the boys had come. They could not wait until the next season and were excited about baseball. It was a great feeling to see these kids having a great time playing baseball.
Professional Testimonials
These are unsolicited testimonials from doctors and experienced baseball people who think I know what I'm talking about.
I am a former college pitcher and college coach who has a graduate degree in exercise science. I came across your site while teaching baseball instruction at a St. Louis sports academy. I sent the link to a former professor of physiology. He thought it was pretty solid stuff. I played/coached baseball for over 20 years and I can honestly say that almost everything I was taught about pitching mechanics by those with the "experience" that your critics say you lack was wrong. It wasn't until I pursued graduate work in exercise science that I came to my own conclusions about pitching mechanics. Baseball is locked in tradition and I am guessing the misinformation and useless drills will continue for years to come. You are not asking kids to emulate you. You are asking them to emulate Roger Clemens or Greg Maddux. I found the high speed analysis of Roger Clemens to be most valuable as I taught young pitchers proper mechanics. Things got a little messy once he was busted for steroids and news of his affair with a 15 year-old Mindy McCready surfaced, but I tried to stress that his mechanics and not his judgment were to be emulated. I have read Dick Mills' epic book on pitching. I have read Mike's Marshall's views. I have had the opportunity to work with professors with tremendous knowledge in biomechanics who themselves had collegiate baseball experience. I have been taught things by former professional players and coaches with decades of experience within the game. I have played and coached at the youth, high school, and college levels. Your site provides the best synthesis of the positive aspects from every source I have encountered. I know you don't need fan mail, but I thought I would respond to some of the arguments in the hate mail you have received. I have the "experience" and know the "traditions" of the game and I believe your site to be the best single source of information on pitching mechanics I have ever encountered. I only wish I had come across it when I was 12. Unfortunately, I didn't and instead endured one of the newest baseball "traditions" – career ending elbow injuries.
Here's an e-mail I received regarding my dislike of the Inverted W.
Chris I am an orthopedic surgeon, and would like to offer you a theory on why the Inverted W is bad to the long term health of the shoulder.
In the position of hyper abduction, elevation and extension of the distal humerus above the shoulder (inverted W) the inferior glenohumeral ligament is placed on stretch. The humeral head must lever against it to advance the arm forward. This ligament is the primary anterior stabilizer of the glenohumeral joint with the arm elevated (i.e. pitching). In other words, this position places this ligament under tension, then it is levered against in order to throw. This eventually will either loosen the shoulder, or tear the anterior labrum.
It should be recognized this ligament is under stress during the "normal" delivery. If you traumatically dislocate your shoulder, this ligament is a key part of the pathology.
Shoulder instability in turn leads to impingement, and other problems. Conversely, when the elbow is below the shoulder, this ligament would not be as stressed.
Also, the specific use and timing of the muscles about the shoulder is critical. They have done muscle activity studies during throwing, and there are distinct differences between amateurs and professionals. There is also evidence for muscle use differences in the healthy shoulders, and the ones that aren't.
Pitching and Hitting Testimonials
Below are some unsolicited testimonials from people who have had success with both my information about pitching mechanics and rotational hitting.
Aloha Chris,
My son and I are viewing your website as an instructional. We changed his hitting swing by implementing your breakdown that explains what is going on. He made tremendous progress. We are now implementing the throwing techniques (not for pitching but just throwing in general).
Today, one of the mothers at school, informed me that her son (who plays minor Little League) is losing interest because he is struggling and not hitting the ball. This is his first year of learning baseball. I informed her of your website and what a difference it has made in just a few weeks with my son.
Her husband is in the same situation as me. We don't know about baseball and have never played it. They will be viewing your website tonight with their son.
I would like to thank you personally for putting up a website that is non-baseball knowledge friendly! I don't know a lot about baseball but now I have some knowledge of baseball on throwing and hitting.
A big mahalo (thank you) from the big island of Hawaii!
I have developed an international following, with readers in Serbia, South Africa, Cameroon, and a number of other countries. Here is an e-mail I received from a baseball coach in Italy.
Dear Chris, first of all excuse me for my English. I am an Italian coach from Rome, I train a team boys here called "New Roma Baseball." From when I have discovered your site the output of my team has changed completely receiving many successes and, in the meantime, you have allowed me to adjourn me and to constantly grow. In Italy the technique of the baseball, both as it regards the pitcher that the batter, is not very evolved and the things that I have read have been of fundamental importance for me is to local level that national. I have, besides, put to the current one many Italian technicians of the existence of your site and all you/they are having satisfaction enormous of it. Thanks to you my boys and me same we are I am very improved. And' a pleasure to see children (from the 9 a 12 years) to strike the ball with so much power and explosiveness. All of my boys launch following the principles from you brought and some of them (7) they have been select for the regional and national selections. Thanks. I will be among the first ones that will purchase your book.