A victim accuses Cardinal Dolan of covering up for the priest who abused him
Chris O'Leary: "Dolan isn't a shepherd, he's a wolf. He isn't part of the solution, he's part of the problem"
ORIGINAL ARTICLE: Una víctima acusa al cardenal Dolan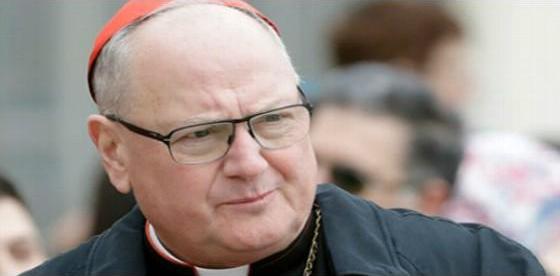 Chris O'Leary says the archbishop of New York covered up for the priest who abused him
"On sex abuse, Cardinal Dolan isn't part of the solution, he's part of the problem"
"It's disgusting that this wolf is putting himself forward as a shepherd"
Religion Digital October 25, 2018 (Cameron Doody) - The Cardinal Archbishop of New York, Timothy Dolan, "isn't part of the solution" to the sex abuse crisis but "part of the problem," says Chris O'Leary, an acknowledged survivor of clergy sex abuse in St. Louis, Missouri, in this exclusive conversation with RD.
Chris says Dolan covered up the priest who sexually abused him as a child. A complicity that extended to Dolan's deliberately hiding from Church authorities the complaint Chris made against a priest Dolan lived with at the Church of the Immacolata in Richmond Heights, Missouri, a suburb of St. Louis.
Chris' nightmare began in the late 70s, when he was abused by Fr. LeRoy Valentine. The physical and emotional scars he sustained over a period that extended into the early 80s meant that it wasn't until 2002 that he dared to tell someone what he'd been through.
In March of that year, just as the Spotlight scandal in Boston was breaking, three other victims of Valentine's who had settled with the Archdiocese of St. Louis four years earlier learnt that, contrary to the promises of then Archbishop (and later Cardinal) Justin Rigali, Valentine continued in active ministry, attached to a primary school. The scandal was served, and the Archdiocese invited other potential victims of Valentine's to come forward. Chris took them up on their offer.
"I had spent a lot of time -including one-on-one time serving masses- with Fr. Valentine and I figured, if anyone knew anything about Fr. V, I did", says Chris.
Chris told a district prosecutor, a local TV reporter, and tthen Auxiliary Bishop and vicar of priests in the Archdiocese of St. Louis, Timothy Dolan, about his experiences with Valentine. Only Dolan called him back, but the now Cardinal Archbishop of New York told Chris that nothing happened; that his memories didn't mean anything. As Chris remembers Dolan's exact words:
I know Fr. Valentine well. We were at the seminary together. We lived and worked together at Immacolata. I know LeRoy Valentine didn't do any of things he's being accused of. I know he would never do anything to hurt a child.

However, if you still want to talk to someone, I can arrange something.
In other words: Dolan didn't believe Chris, but believed in the innocence of his abuser, Valentine. The man Dolan lived with at the parish of the Immacolata, in the room adjacent to the one to which Valentine would bring his victims. Chris says at least one other victim has since told him that Dolan knew and saw Valentine bring boys up to his room.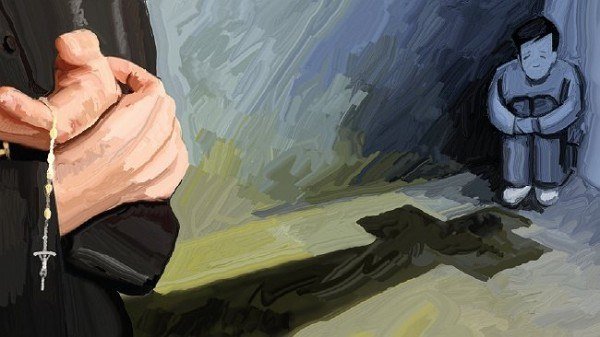 Chris accuses Dolan of having "gaslighted" him, and says this brainwashing cut particularly deeply. It came from the man who stars in Chris' very first memory of a priest, when Dolan had his class act out the story of Jesus healing the blind man in Mark 8 and had Chris play the role of Christ.
Nonetheless, Chris took Dolan up on his offer to point him in the direction of someone who could help him, and Chris found himself meeting a few weeks later with a woman he believes was Nancy Brown, then Assistant Director of Child and Youth Protection in the Archdiocese of St. Louis.
Brown, like Dolan, told him nothing had happened with Valentine; she told him he was just "misinterpreting" Valentine's actions and intentions. As with the Bishop, Chris took the psychologist at her word, and, for the next nine years, just went on with his life.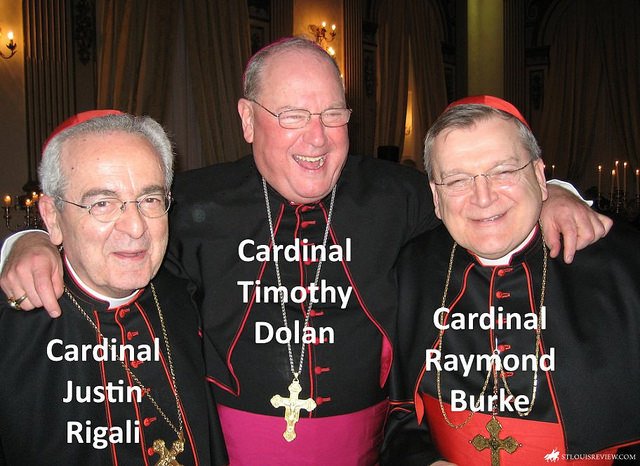 Cardinals Rigali, Dolan, and Burke, together in a photo that Chris says the Archdiocese of St. Louis has tried to take down from the internet and social media
"Dolan erased all evidence of our conversations from the file of Fr. Valentine"
Dolan left the Archdiocese of St. Louis for Milwaukee in August 2002, and Rigali left for Philadelphia in July 2003. But though these protectors of Valentine moved on, Chris couldn't, and found himself suffering panic attacks that become more and more frequent and intense as the years went by.
Chris lost his job, saw his marriage fall apart, and became estranged from his family. All the while he never heard back from the Archdiocese, now headed up by then Archbishop (and now Cardinal) Raymond Burke.
By May 9, 2011, Chris couldn't take the pain anymore, so he decided to return to the Archdiocese of St. Louis. Deacon Philip Hengen -the then-head of the Office for Child and Youth Protection- was on the defensive from the outset, bringing two lawyers with him to his first meeting with Chris, contrary to archdiocesan policy on meetings with sex abuse victims.
The Church hadn't changed its tune on the abuser Valentine since Chris had met with Dolan some nine years before. Its representatives repeated that Chris' abuse hadn't happened. But Chris was to discover something even more disturbing in his 2011 meeting with Hengen and the lawyers: that the Archdiocese had no record of his 2002 conversations with Dolan. A gap which made Chris think that Dolan had deliberately covered up for Valentine.
"Dolan erased all evidence of our conversations from the file of Fr. Valentine", says Chris. A fact which Chris says was corroborated by Dolan's successor as vicar of priests in St. Louis, now Bishop Rick Stika, in an August 2018 tweet. Stika confirmed that Dolan was still in charge of child protection in the Archdiocese when Chris made his initial complaint, and hadn't left yet for Milwaukee. Stika told Chris he had found no trace of Chris' allegations in Valentine's file.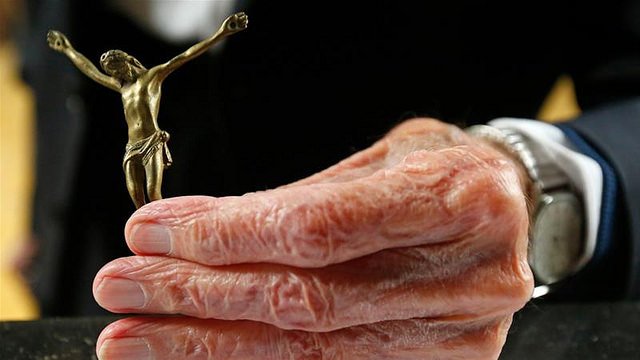 "Dolan isn't a shepherd. He's a wolf"
Not only did the Archdiocese of St. Louis insist they had no record of Chris' 2002 complaint, but Hengen blamed the debilitating anxiety problems Chris was having in 2011 on father issues. The denials of the abuse he had suffered sent Chris into a downward spiral that only intensified when Hengen promised in July 2011, at Chris' insistence, to speak to Chris' therapist, only to never do so.
On May 10, 2013 the Archdiocese of St. Louis announced Valentine would be removed from the ministry due to another complaint received against him in 2012 which, unlike Chris', had been deemed to be credible. But not even then did the Church check in with Chris to see how he was going, instead sticking to its vague offers to collaborate on a treatment plan that Chris would have to pay for.
Chris grew frustrated with what he says was the strategy of the archdiocese "to make me just go away" and tried to go over Hengen's head to Monsignor Richard Hanneke, then vicar for priests, who ended up simply referring him back to Hengen.
Chris had lost everything and had been reduced to living in his parents' house, but the worse was yet to come. In October 2015 he filed a lawsuit against the archdiocese of St. Louis, only to find two months later that he had a malignant melanoma on his arm. Though Chris seems to have successfully recovered from the cancer, he says the stress of battling the Church has led to another serious health problem: type II diabetes.
Chris was forced to settle his lawsuit against the Archdiocese of St. Louis in September 2017, due to a problem with the Statute of Limitations that he says was created by the efforts of the Archdiocese to gaslight him and give him the run-around. Chris continues to fight, however, in what he calls the "war" in the Church between the "believers who believe the [sex abuse] scandal happened and remains a problem" and the "doubters, deniers, and fixers who believe, to quote the Pope, 'it's all calumny'". His website is the trench from which he fights.
Though in February this year Chris received an email from the Director of the Office of Child and Youth Protection of the Archdiocese of St. Louis that recognized that his claims of Valentine's abuse "were acknowledged by Deacon Phil Hengen, the archdiocese of Saint Louis and the court system", just a few weeks later an archdiocesan spokesman claimed "the Archdiocese's record of Mr. O'Leary's allegations are significantly different" to how Chris remembers them and that "the information O'Leary shared initially changed multiple times", thereby denying this sex abuse victim the closure he so desperately seeks.
Chris seeks too to tell anyone who'll listen the role now-Cardinal Dolan played in the sexual, emotional, and psychological abuse he suffered at the hands of the Church. Apart of the story, he says, has never been acknowledged.
Cardinal Dolan "is a wolf", says Chris. "That makes it all the more disgusting that... he is putting himself forward as a shepherd".
"Cardinal Dolan isn't part of the solution. He's part of the problem".
This is the first part of a series in RD on accusations of abuse cover-ups against Cardinal Dolan. The second part of the series will be published in coming days.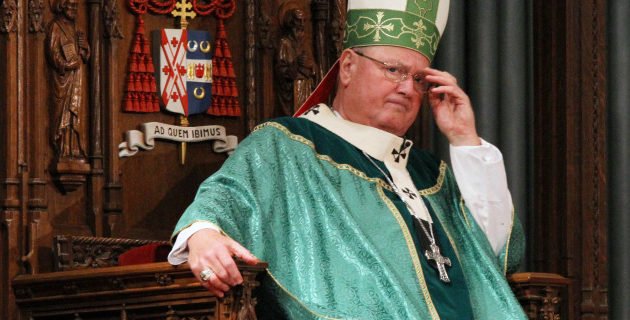 ORIGINAL ARTICLE: Una víctima acusa al cardenal Dolan