Pitching Mechanics Analysis
Anthony Reyes
8/11/2008
Anyone who has followed my work closely knows that I think that Anthony Reyes is a mechanical trainwreck. Let me explain exactly why I say that.
Anthony Reyes
First, notice the classic Inverted W position in Frame 37. Notice how Anthony Reyes' Pitching Arm Side (PAS) elbow is both above and behind his shoulders as in the photo below.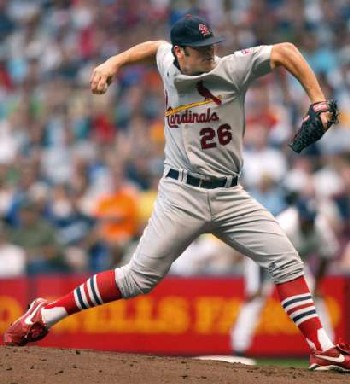 Anthony Reyes
Second, notice the position of Anthony Reyes' PAS forearm in Frame 41, which is the moment that his Glove Side (GS) foot plants. Anthony Reyes' PAS forearm is horizontal, rather than vertical, in Frame 41. Anthony Reyes's PAS forearm isn't vertical until Frame 45, at which point his shoulders have rotated significantly.
Anthony Reyes
This timing problem increases the load on both his elbow and his shoulder. I also wonder if this problem with habitual rushing is one reason why Anthony Reyes has a hard time keeping the ball down in the strike zone.
The Bottom Line
I am glad that my St. Louis Cardinals (finally) traded Anthony Reyes to the Cleveland Indians. I would be surprised if the Indians get significant value out of this trade due to Anthony Reyes' Inverted W and resulting timing problem.