Dominant & Durable: David Price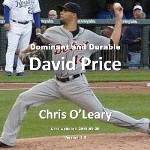 David Price was a pitcher who I was studying with some interest, but the more I studied him, the more I saw something problematic. This was pretty clear during his time with the Rays but then largely disappeared during his time with the Tigers and Blue Jays.
However, from literally the first moment I saw David Price in a Red Sox uniform, I saw that he had gotten back to doing what I call the Tommy John Twist.
I rate Justin Verlander more highly than David Price because JV has a better glove side, and I wonder if the Red Sox contributed to David Price's borderline glove side getting even worse.