Chris O'Leary's Pitcher
Injury Predictions
I have been rating pitchers and their pitching mechanics since 2006, starting with Mark Prior and Anthony Reyes.
Over that time, I have developed and refined a Pitcher Injury Risk Rating Algorithm (PIRRA) to the point where I no longer make my evaluations of current pitchers publicly available. I have consolidated all of my current pitcher evaluations into one piece entitled Pitcher Picks and Pans.
However, in the interest of demonstrating PIRRA's power, below are links to predictions I have made previously, some of which I made on my pitching mechanics analyses page and some of which I tweeted @thepainguy.
I mentioned many of these names in my 2014 pitcher injury podcast with Will Leitch.
Henderson Alvarez
Tony Cingrani
Jose Fernandez
Jaime Garcia
The bottom line on Jaime Garcia is that I don't think his elbow problems are a fluke. Like BJ Ryan, I think Jaime Garcia is headed for Tommy John surgery followed a couple of years later by shoulder problems. Jaime Garcia is not the answer to my Cardinals' prayers.

Jaime Garcia Pitching Mechanics Analysis
July 21, 2008
Tommy Hanson
If I ran the zoo, I would shut Tommy Hanson down for 2011 and pray that he heals during the off-season. I would then convert him to a closer. His timing isn't going to allow him to stay healthy as a starter.
Tommy Hanson's Pitching Mechanics
Matt Harvey
Here's a picture of Matt Harvey that shows the timing problem that I am talking about and that concerns me. Given that his front foot is down, his pitching arm should be more vertical.

Matt Harvey Pitching Mechanics Analysis
May 13, 2013

NOTE: I first publicly expressed concerns about Matt Harvey's pitching mechanics on on May 9, 2013 on the Steve Czaban Show (Yahoo Sports Radio). My Matt Harvey comments start at 12:55 Matthew Giles of New York Magazine can confirm the validity of the above quote.
Joe Kelly
Tim Lincecum
I love Tim Lincecum's stride and lower body, but he has an Inverted L in his arm action that makes me nervous. I would argue that Tim Lincecum's Inverted L explains why his velocity has declined so dramatically.
2007.12.12
Justin Masterson
Charlie Morton
Bud Norris
Ivan Nova
Named in my 2014 podcast with Will Leitch. Premature Pronation creates a Timing problem.
Anthony Reyes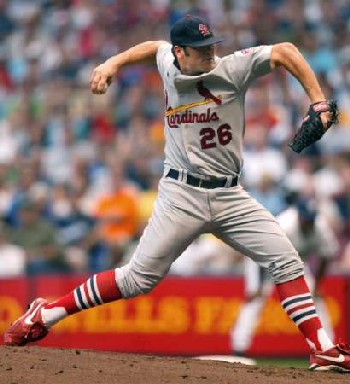 Anthony Reyes'
Inverted W
I know a lot of people are extremely high on Anthony Reyes. However, I believe that I see a flaw in his mechanics that may very well make him the Cardinals' Mark Prior (and that's not a good thing). By that I mean a pitcher who shows tons of promise but ends up with continual injury problems.

My Concerns About Anthony Reyes
July 25, 2006


I am glad that my St. Louis Cardinals (finally) traded Anthony Reyes to the Cleveland Indians. I would be surprised if the Indians get significant value out of this trade due to Anthony Reyes' Inverted W and resulting timing problem.

Anthony Reyes Pitching Mechanics Analysis
August 11, 2008
Johan Santana
There is no question that Johan Santana has been very successful to date. However, due to his borderline mechanics I question whether Johan Santana will be able to continue that level of success. I think Johan Santana could easily give the Mets the same heartache that Pedro Martinez and El Duque have.
Johan Santana's Pitching Mechanics
Aaron Sanchez
Craig Stammen
Major Inverted W. Hasn't broken down. Yet. It helps that he's a reliever.
2015.04.14.
Jason Vargas
In June, people were saying Jason Vargas' forearm problems were no big deal; totally unrelated to any problem with his elbow. I disagreed. I thought his forearm problems were a sign of an impending UCL failure.
Jordan Walden
Yes, he's just a reliever, and that will tend to reduce the risk. However, I don't believe that Jordan Walden's mechanics will allow him to last while being used in a regular set-up role. Instead, I think the only way he will last is being used as a spot stopper, not a regular set-up guy.

2015.04.23
Zack Wheeler
Jordan Zimmermann
I predicted his Tommy John Surgery back in 2007. Now it looks like the Inverted L in his arm action may be starting to cause shoulder problems.
2015.04.14.
If you are interested in the topic of pitching injuries and the basis for the predictions I make, my interview with Will Leitch about pitching injuries is a good place to start.
About The Author
Chris O'Leary never played baseball beyond grade school due to a shoulder injury suffered due to poor pitching mechanics. As a result, he is focused on ensuring that what happened to him doesn't happen to anybody else. The Epidemic is one way he hopes to achieve that goal.