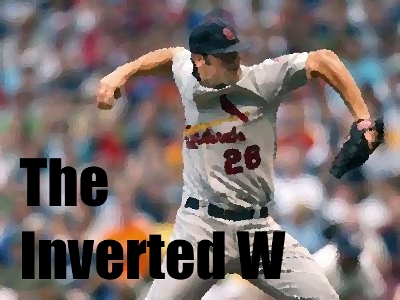 Pitchers, young and old alike, are experiencing elbow and shoulder injuries at increasing, and unprecedented, rates.
While some of this increase is due to overuse and abuse, emerging research suggests that many of these problems are due to, or are worsened by, a set of pitching arm actions that are collectively known as the Inverted W. While the Inverted W often enables a pitcher to throw harder, it also significantly increases their risk of experiencing elbow and/or shoulder problems.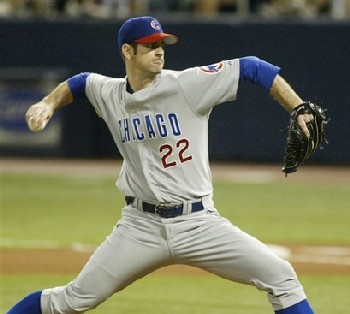 Mark Prior's Inverted W
The Inverted W is behind the injury problems of Mark Prior, Anthony Reyes, Stephen Strasburg, and Adam Wainwright, among others.
Stephen Strasburg's Inverted W
The goal of this project is to create a webbook, based on the latest research into pitching biomechanics and injuries, that will increase the awareness of the relationship between the Inverted W and elbow and shoulder problems in baseball pitchers. This webbook will provide pitchers, their parents, and their coaches tools to identify, prevent, and fix the Inverted W.
History
This project grows out of research that I started doing in 2005 in an attempt to protect the pitching arms of my sons and their friends.
My hope was to keep what happened to my shoulder from happening to theirs.
Like many people, when my sons started pitching, I read everything I could about pitching and pitching mechanics. However, I quickly realized that many of the top pitching gurus held views that were contradictory and/or out of touch with reality. One would say that something was the best possible thing to do and another would say that the same exact thing was the worst possible thing to do. Others would advocate things that they said the best pitchers did, but that even the most basic photo and video analysis work showed they didn't actually do that.
I decided to go back to the original sources — to the scientific research and photos and video clips — and see what they told me about the pitching mechanics of the best and most durable pitchers and the pitching mechanics of frequently-injured pitchers. What I found was a difference between the arm actions of great, durable pitchers like Nolan Ryan, Tom Seaver, and Greg Maddux and frequently-injured pitchers like Mark Prior and Kerry Wood.
That difference is the Inverted W.
Over the past seven years, and starting with a now-famous (or infamous) piece entitled Death to the Inverted W, I have published my ideas, findings, and predictions on my web site in the hope that others with more experience and credibility would duplicate my work and validate my results.
While it took a number of years — and longer than I hoped — for people to start taking my observation and ideas seriously, that is now starting to happen. Other people and organizations, including those at the major league level, have done the research, seen the same things, reached the same conclusions, and have offered to help me get the word out about my ideas and findings.
That includes a high-profile presentation in May of 2013, that I am using as the target date for the release of this webbook.
As a result, I have put this project together to help fund the final stages of my research and my efforts to get the word out about the dangers of the Inverted W.
Use Of Proceeds
I have done most of my research to date from my home in St. Louis. However, completing the research phase of this project, and getting the word out about it, will require significant amounts of travel. Making the webbook as compelling as possible will also require that I invest in professional production and graphic design and not just do my own graphic design. I am looking for help covering those costs.
Donate
If you would like to make a donation to help me with my efforts to get the word out about the Inverted W, then click on the button below. You will then be taken to a page where you can indicate how much you are donating.
Please note that my company is not a non-profit, so your donations are not tax-deductible. However, they are deeply appreciated and just might help save some pitcher's arm and their dreams.
Why Not Kickstarter?
Why didn't I just fund this project using Kickstarter?
The truth is that I tried to, and put this page together for use on Kickstarter, but my project was rejected because they view this as a self-help book. That's debatable; I think the book is simply a work of non-fiction.
Regardless, I already have the same web and payment infrastructure in place, so I decided to organize this funding effort on my own.
For More Information
I understand that, especially at the higher contribution levels, I am asking people to invest a significant amount of money in this project.
If you would like to see my other writings, and the projects that I have already completed, you can do so by going to www.chrisoleary.com. You can also browse around my client site and view the tables of contents of some of the other webbooks I have put together.
I can't publicly discuss the in-press papers and research by others that backs up my ideas and findings and that have led me to kick this project into high gear. However, I would be glad to talk, off the record, to anyone who is interested. You can get my contact information on the contact page on my web site. E-mail or text is usually the best way to start a conversation.