Pitching Mechanics Analysis
Noah Syndergaard
I was deeply troubled by Noah Syndergaard's pitching mechanics the first time I saw him.
Of course, Noah Syndergaard isn't the only problematic Mets pitcher.
What did I see in the pitching mechanics of Noah Syndergaard and a number of other Mets pitchers?
The Core Problem
As with Matt Harvey's pitching mechanics and Steven Matz's pitching mechanics, Noah Syndergaard has a problem with his...
Instead of being UP at foot plant when his shoulders start rotating, Noah Syndergaard's pitching arm is closer to FLAT.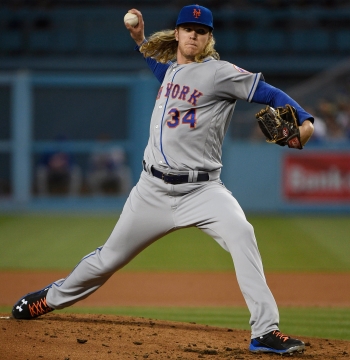 Noah Syndergaard - Flat Arm Syndrome
For obvious reasons, I call that...
My understanding of Timing problems in baseball pitchers led me to say the following immediately before the start in which Noah Syndergaard tore his lat.
I have never been a fan of Noah Syndergaard's pitching mechanics, and have said so consistently on Twitter @thepainguy.