2015.1.18
While many hitting instructors teach that hitters must keep their front foot closed as they swing, as I discuss in detail in my client site piece Williams, Lau, and the Front Foot, the logic behind keeping the front foot closed through heel plant is of dubious merit.
A Theory of Lower Body
Injuries in Hitters
I have been "fortunate" enough to see plenty of weak, powerless swings by hitters like Joe Thurston who have obviously been taught to keep their front foot closed and basically sideways to the path of the pitch.
Joe Thurston 2009
However, I am starting to believe that this cue doesn't just cause performance problems in hitters. Instead, I am starting to wonder if it may also increase the risk of lower body injuries in hitters.
A Turn for the Worse?
Before I get into the injury implications to hitters of trying to keep their front foot closed through the Point Of Contact, let me first say that I believe that there is value to paying attention to a hitter's front foot.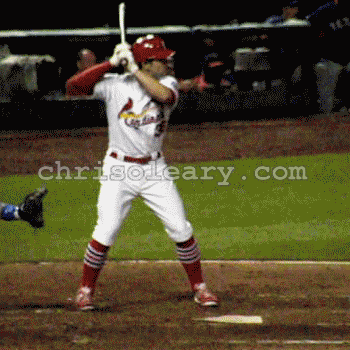 Pete Kozma 2013
For instance, you could argue that one of the problems with Pete Kozma's swing is that he fans his front foot open too much and too soon, causing his hips to open too soon.
Pete Kozma would likely benefit from trying to keep his front foot closed longer.
However, I believe that many coaches are taking this good idea too far and may be increasing their hitters' risk of experiencing lower body injuries.
Genesis
The genesis of this piece was this clip of Randal Grichuk, who starts off with a tremendous lower body, but who never finishes his Rotation, I would argue because of what his front foot does.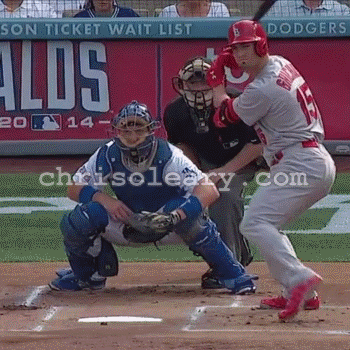 Randal Grichuk 2014
Notice how Randal Grichuk lands with his front foot closed — with the toe of his front foot pointing at the first base dugout and pretty perpendicular to the path of the pitch — and then keeps it closed into the Point Of Contact.
That keeps his hips from opening fully.
Yes, this was a home run. However, I would argue that Randal Grichuk is leaving power on the table by keeping his front foot so closed and limiting his rotation as a result, meaning that he is swinging harder than he has to.
What Else is it Hurting?
In looking at the front feet of hitters, trying to identify hitters who could be experiencing power problems as a result of following this cue, I started to notice how much stress they were putting on the front ankles and legs by keeping their front feet closed into contact.
Albert Pujols
In this clip of Albert Pujols hitting his iconic (or infamous) home run off of Brad Lidge during the 2005 NLCS, watch Pujols' front foot.
Albert Pujols 2005
Because he lands with his front foot closed, and keeps his front foot closed into the Point Of Contact, that causes his left ankle to undergo a significant amount of stress as all of his weight goes into his ankle while it is mostly closed and sideways to the pitcher. That in turn puts a significant load on the muscles, tendond, and ligaments of his left foot.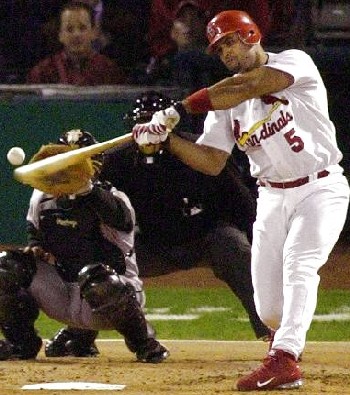 Albert Pujols 2006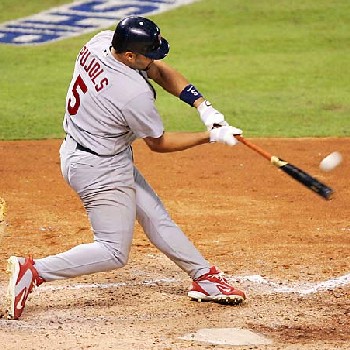 Albert Pujols 2006
I don't know enough about the anatomy of the foot and ankle to be able to answer the question, but I have to wonder if the load that Albert Pujols puts on his left foot, ankle, and lower leg — by shifting all of his weight into it while it's turned almost sideways — has contributed to his problems with his feet and legs.
Allen Craig
Allen Craig started off extremely strong, but then started to fade badly as injuries started to take their toll. I have long thought that Allen Craig's stance and stride aren't doing him any favors, but I am now starting to wonder if they are creating, or worsening, his problems with his legs and his overall performance.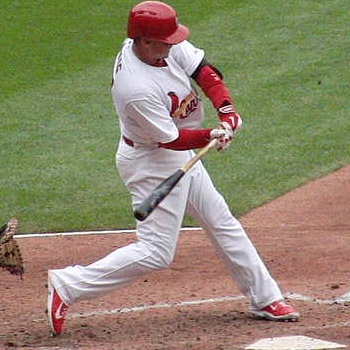 Allen Craig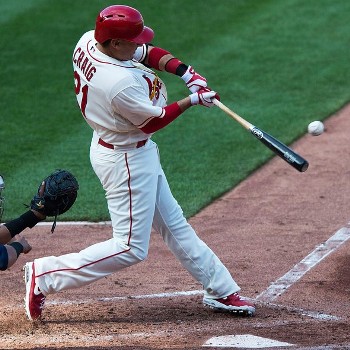 Allen Craig
Allen Craig
The concern is that, not only does Allen Craig's front foot have to absorb the force of his stride and his swing, but it has to do so while turned almost sideways and, in some cases, rolling onto its side.
That's going to put a lot of load on an already compromised front foot.
Mike Trout
Given how he lands with his front foot quite closed, so much so that it causes his back foot to jump around in response as his hips fire, I will be monitoring the health of Mike Trout's left leg, foot, and ankle with some interest.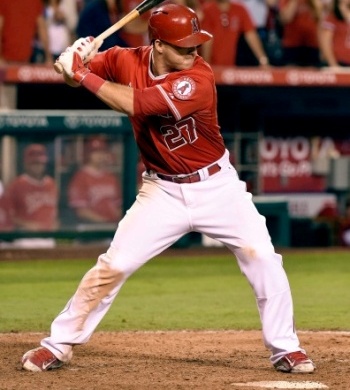 Mike Trout 2014.08
Miguel Cabrera
Tying some of Miguel Cabrera's problems with his lower body to this pattern is admittedly a reach. However, he lands with his front leg quite closed and his back leg moves very similarly to Mike Trout's, and for what look like similar reasons.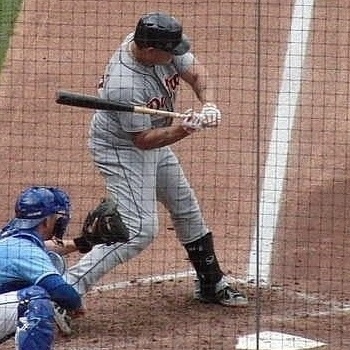 Miguel Cabrera
It could be that by keeping his front foot closed as long as he does, Miguel Cabrera could be further increasing the load on his already troubled legs.
Other Hitters
Other hitters that I am going to continue studying, and monitor for lower leg (and perhaps front hip) problems due to how closed their front feet are into contact and/or their injury history, include...
Matt Adams
Javier Baez
Jedd Gyorko
Eric Hosmer
Matt Kemp
Evan Longoria
J.D. Martinez
Andrew McCutchen
Brandon Moss
Jorge Soler
Mark Trumbo
Troy Tulowitzki
Is It Even Necessary?
Leaving aside the questionable logic behind the idea of keeping the front foot closed, other clips I have in my library make me question the necessity of keeping the front foot closed.
For instance, the clip below shows Matt Carpenter hitting one of the longest home runs I have ever seen. He hit this ball completely out — as in over the wall and the tents behind the wall — of the Braves' spring training facility.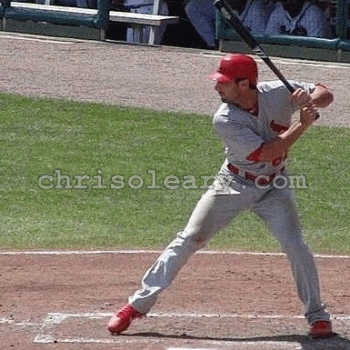 Matt Carpenter
The thing to notice is his front foot. Notice how he certainly doesn't land with his front foot closed and pointing at the third base dugout. While his front foot isn't completely open, you have to wonder why some people teach a front foot position that is more closed than this, especially if it is potentially problematic and not even necessary to hitting the ball hard.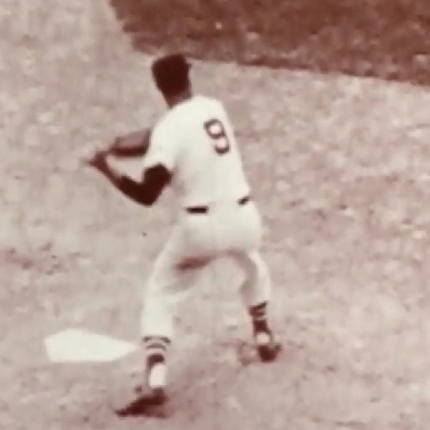 Ted Williams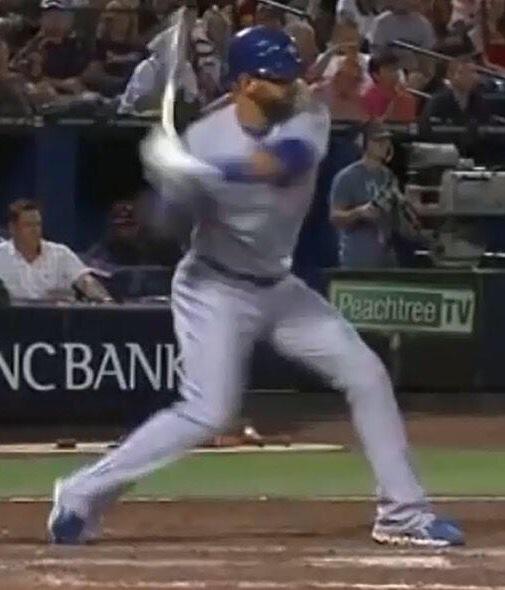 Jose Bautista